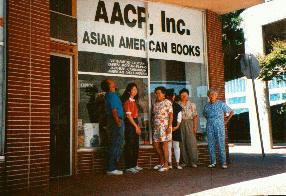 We're halfway through May, but it's not too late to remember that it is officially Asian Pacific American Heritage month (APAHM).
Our friends at Asian American Curriculum Project (AACP), Japanese American Citizens League (San Mateo, JACL), and the Organization of Chinese Americans (San Mateo, OCA) have helped organized a commemoration at the Foster City Public Library (1000 E. Hillsdale Blvd, Foster City, 94404) on May 22nd (10 am - 6:30 pm).
Throughout the day many authors will present and artists will peform their work. The event is free so come and enjoy!
AACP helps distribute some of Immedium's books to schools and libraries, and we've participated in APAHM events in the past. AACP's mission is to:
to educate the public about the great diversity of the Asian American experience, through the books that we distribute; fostering cultural awareness and to educate Asian Americans about their own heritage, instilling a sense of pride. AACP believes that the knowledge which comes from the use of appropriate materials can accomplish these goals.
Unfortunately, we can't attend this year due to a prior commitment. But we wholeheartedly support May's theme and celebrations such as this!